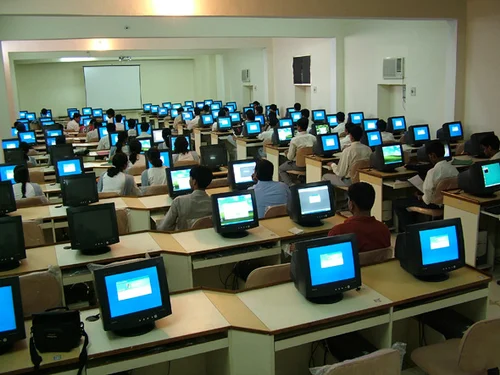 The Computer Centre was established in 1988 under able guidance of the then Vice-chancellor Dr. K.K. Tiwari. It was formely opened by his Excellency Prof. K.M. Chandi, the then governor of Madhya Pradesh on the auspicious day 28 February 1988. In the beginning this Centre was equipped with the Main Frame ICIM 6000. The furnishing of the center was also of latest type and the same was done by the ICIM agency. This center was one of the best centers of this part of the country. The first course launched by the center was Post Graduate Diploma in Computer Application, which was later on converted into MCA. The pass out of this course could obtain good placement in various organisations.
Computer Centre was established for the purpose of providing central computing facility to university teaching departments and research activities. Another objective of the center was to computerize various activities of the university in order to provide better services to the students. Since its establishment center has performed various tasks assigned to it satisfactorily. The center is also equipped with Internet.
University has started Post Graduate Diploma in Computer Application under the Computer Centre.
Computer Centre was established for purpose of providing Central Computing facility to university teaching departments and research activities. Another objective of the Centre was to computerize various activities of the university in order to provide better services to the students since its establishment centre has performed various tasks assigned to it satisfactorily.

In 1995 Centre started number of short terms course in various advanced areas of Computer. These courses are running with a great success and have gained tremendous popularity among the public. At the same time centre has taken responsibility of computerizing various university tasks.

The computer center is well equipped with the network of LAN and UNIX incorporating the latest hardware technologies. The students are apprised of all types of latest advancements in the field of software and hardware. Students of MCA are exposed to the following languages, Front-end tools, RDBMS or Packages:-
C (on UNIX) and Turbo C
Turbo C++
Visual Foxpro
Windows me platform
Visual Basic 6.0
UNIX Shell programming
ORACLE 9
Internet facility